There is no finer place to live than a country home in southwest Montana. With the majestic views in all directions, clear water, clean air, and friendly neighbors, the peace and quiet of a Montana country property is a small bit of heaven.

Montana country homes and recreational properties provide for a unique country living experience, especially if you come from somewhere other than Montana. Rural people are hospitable, easy-going, and some of the most generous neighbors you could ever hope to meet. Ranchers, miners, and loggers first settled Southwest Montana; all people who work outside in Mother Nature's elements, and whose very survival depended upon their neighbors help. That famous tradition of Montana hospitality survives today, and country neighbors are the first to lend a helping hand when the occasion arises.
Mike Probst and his associates at Gold West Realty can assist you in finding the type of Montana country home that appeals to you.Know that you can buy and sell with confidence when dealing with your local Montana realtor, and contact us today, that we might soon begin your search for a Montana country property, in southwest Montana's Gold West Country.
SOLD
Lima Hay
HAY PRODUCTION AT LIMA, MONTANA
Located just 4 miles from the small western town of Lima, Montana, lay 206 acres of irrigated grass hay meadows. With excellent soil and abundant water, these highly-productive meadows are entirely flood-irrigated, thereby reducing the cost of hay production. This property is cross-fenced, and bordered by the creek. In close proximity to great hunting and fishing, elk frequently visit these meadows. A great hay producer, this property is priced to sell at $600,000.
SOLD
Eighty Acres
Country Property for Sale
Eighty Acres
Located on Anderson Lane, north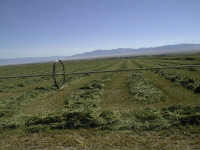 of Dillon, Montana, this property features scenic views of the mountains that surround the Beaverhead Valley. This is a prime farm ground property, with good water rights, and the sprinkler equipment to help make an efficient operation.
Offered at $640,000